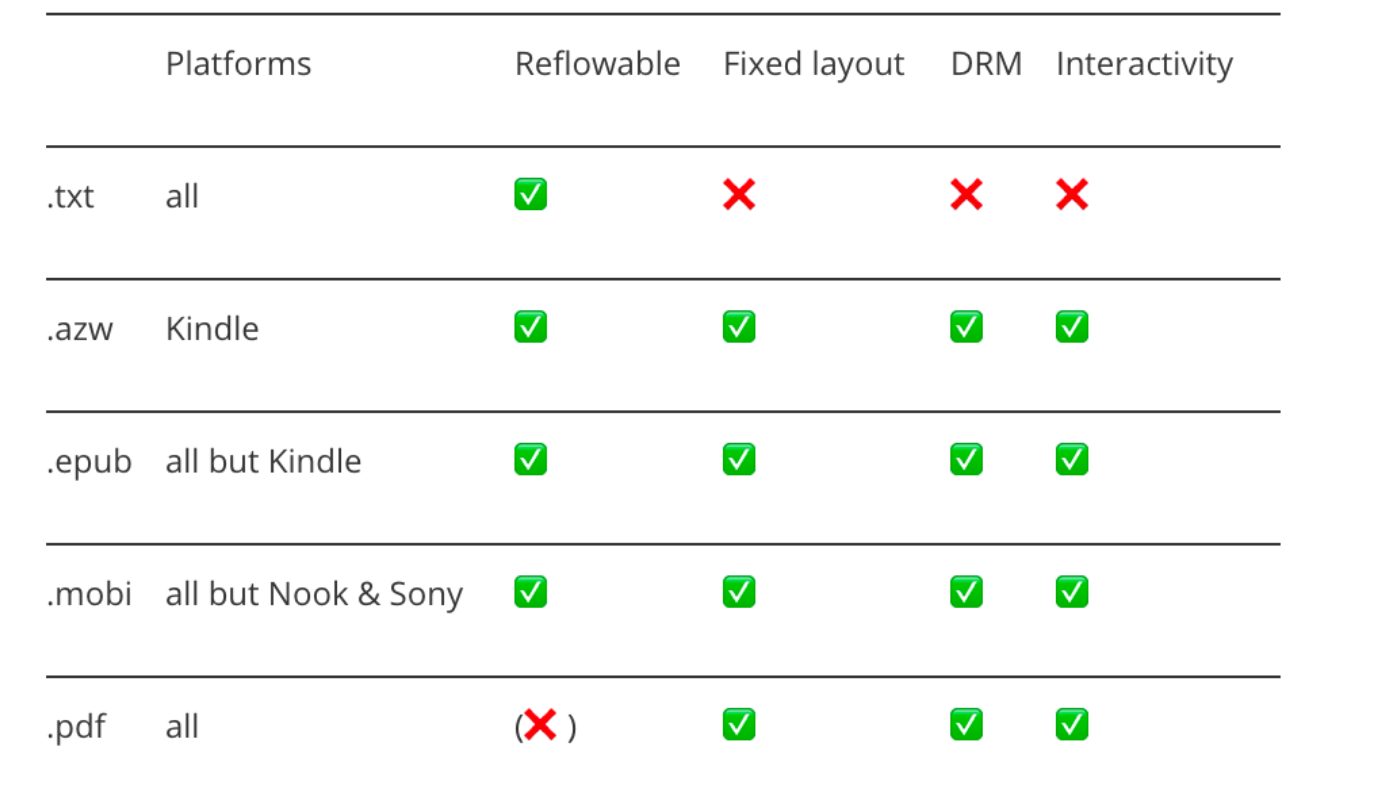 Top Free eBook formats
Let's take a detailed look at the top five eBook formats: TXT, EPUB, MOBI, AZW, and PDF.
https://sites.google.com/view/free-ebooks-downloads/home
PDF (.pdf)
A PDF, also known as a portable document format, isn't technically a true eBook because it's not reflowable, but it's the format most people are familiar with. Created by Adobe, PDFs are known for their ease of use and ability to maintain high-end designs and formats. Because they hold their format and aren't reflowable, they can be difficult to read on a small screen and have limited interactivity.
PDFs are similar to the fixed layout EPUB file format, but, unlike the EPUB, they only have basic copy protection, which means they can be easily downloaded and shared for free. Despite this, they are still one of the most commonly used eBook formats, especially by marketers.
PDFs can't be sold in the iBookstore or Kindle store, but they can be read on just about any device.
There are many free PDF editors for those looking to create an eBook in PDF format.
TXT (.txt) format
A plain text file is the simplest file format that uses the file extension .txt. These files are used strictly for text, images and graphs are not supported. Because of their simplicity, these files are usually for storing information with no formatting beyond basic fonts and font styles. They don't have fixed layouts, digital rights management (DRM) protection, or interactivity. TXT files are great for text-heavy eBooks, like research reports, for example.
What is digital rights management? 
DRM, also known as Digital Rights Management, is a term that is used to describe the processes by which the author or publisher of a work exerts his rights to control what the purchaser of his work is entitled to do.
EPUB (.epub) format
An EPUB, or electronic publication, is the most widely supported eBook format and can be read on a variety of devices, including computers, smartphones, tablets, and most eReaders (except Kindles). All EPUB file formats are DRM protected and have strong copy protection. EPUB files are reflowable, but also support fixed layouts. Let's check out the difference:
Reflowable EPUB files are designed in a way that allows the text and images reflow to fit all screen sizes. They have a flat, linear design, which means images float along with the text (no overlap or text wrap), so this format is best used for text-heavy eBooks. Reflowable EPUBs are the most common eBook format and have the widest distribution because it's the format that is most familiar to users.
Fixed layout EPUBs, on the other hand, have sophisticated designs. Whatever effects, images, and layout you have in the program, will be kept in it's fixed layout. It also supports javascript, which allows for interactivity and animations. Another cool feature? Read aloud, a feature where the words on the screen light up or change color while a voiceover reads the story, which makes them great for children's books.
One downfall of fixed layout EPUBs, though, is that they are limited in distribution compared to reflowable EPUBs. They aren't sold in the Kindle store, so they're usually found in the ibookstore, which has a smaller audience than Kindle.
MOBI (.mobi) format
A MOBI file, otherwise known as a Mobipocket eBook file, was used as the first file format by Amazon when it launched Kindle. In 2011, support for the MOBI file was discontinued and has since been replaced by the AZW file format. Although MOBI files are no longer supported, Amazon's kindle devices use MOBI file structure, but they now have a different DRM protection and use the AZW file extension. Because of this, MOBI files are still widely popular for devices with low bandwidth, except Nooks and Sony readers. Outside of Kindle, though, you won't find them too often.
AZW (.azw) and AZW3 (.azw3) formats
AZW files, also known as Kindle files, were developed by Amazon for its Kindle eReaders, replacing MOBI files. AZW files use the MOBI format, but contains DRM protection that only allows them to be read on Kindles or devices with Kindle apps. Additively, they are only accessible from the Amazon online bookstore. These files can store complex content like bookmarks, annotations, and highlights.
Older Kindle eReaders use the AZW format, but after the release of the Kindle Fire, Amazon created AZW3 files, also known as the Kindle Format 8 (KF8). AZW3 is the next-generation version of the Kindle eBook file, adding support for HTML and CSS to the existing Kindle format, making it more advanced to support additional styles, fonts, and layouts.
Here's a quick, easy look at the top five formats, what they support, and what platforms they can be used on.